DA95f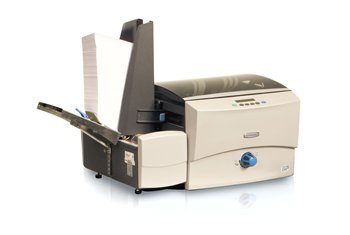 "Fixed Head" inkjet printing technology
Six print heads arranged in two banks, enable printing of all text and graphics in one pass. Resolutions of 150, 200, 300 & 600 dpi horizontal and 300dpi or 600 dpi vertical, allow printing of draft light, draft, letter light, letter, executive light and executive qualities. The printer has 12 internal, scaleable fonts plus it will print unlimited TrueType fonts with no effect on production speed. The DA95F offers black and spot colour printing.
Fast, efficient, high productivity
Address postcards at speeds of up to 30,000 per hour (6 lines of text). Handles a variety of sizes by automatically feeding materials from 76 x 127mm up to 355 x 390mm and up to 12.7mm thick.
The optional Conveyor/Stacker increases productivity even further.
Detachable feeder (FeedRight and standard feeder
The DA95F can be used either on-line or off-line thanks to its detachable feeder. This means that with the feeder detached, the printer can be used on-line with inserters and other mail production systems.
Complete versatility
Print onto a wide range of media including envelopes, postcards leaflets, and brochures. Print graphics and barcodes including the RM4SCC barcode.
Save money by maximizing postal discounts
By using our optional AddressManagement software, you can earn postal discounts that will reduce your postage costs significantly on volume mailings.
This also offers the options of de-duplication and address validation for your databases, again offering significant savings by not mailing to duplicated or non-existent addresses.