DA50s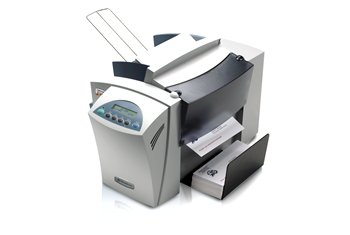 Make your mail standout from the crowd
Create and print professional looking addresses directly onto postcards, envelopes and a variety of other mail pieces. The DA50s will print black or spot colour at resolutions up to 600 dpi. The DA55s offers full colour printing capability. With colour printing resolutions of up to 300 dpi, you can create your mail pieces for maximum impact by printing colour logos and messages, to ensure your mail is opened and lift response rates.
Fast, efficient, productive
Address DL envelopes at speeds of up to 10,000 per hour
(3 lines, no graphics). Handles a variety of sizes by automatically feeding materials from 76 x 127mm up to 324 x 343mm and
up to 3.2mm thick.
The optional Conveyor/Stacker increases productivity even further.
Prints directly from your database
Eliminates time consuming and costly label production and affixing.
Enables printing of destination address, barcode, PPI, return address, logos and messages, meaning you can print all the information you require in one operation.
Save money by maximizing postal discounts
By using our optional FlexMail® software, you can access postal discounts that will reduce your postage costs significantly on volume mailings.
FlexMail® also offers the options of de-duplication and address validation for your databases.
These activities are crucial to ensure the efficiency of your mailing activities and provide accurate mailing data, which combined with address printing ensure your mail meets Cleanmail specifications.